Business Organization
Corporate Changes
Bookkeeping
Intellectual Property
Legal Service & Cancellation of Company
Limited Liability Company (LLC)

An LLC is a business entity created under state law that can shield you from personal liability.

From ¥8000

Subsidiary

A subsidiary is a company that is owned or controlled by another company.

From ¥998

Representative Office

A representative office conducts marketing and other non-transactional operations.

¥8000

Hong Kong Company

Hong Kong Company has simple company formation and legal framework.

¥8000

British Virgin Islands (BVI) Company

British Virgin Islands is a leading Offshore Financial Centre.

¥8000

Cayman Islands Company

Cayman Islands is a leading Offshore Financial Centre.

¥25000

Wholly Foreign-Owned Enterprise (WFOE)

Wholly Foreign-Owned Enterprise is a common investment vehicle.

From ¥8000

Variable Interest Entity (VIE)

VIE is a corporate structure used to circumvent restrictions.

Negotiable
Transfer of Equity

The ownership of a share or interest in a property is transferred from one entity to another, a partial conveyance.

¥7000

Corporate Name Change

Changing the company's name.

¥5000

Capital Increase

A new equity issue by an already publicly traded company.

¥3000

Term of Operation Change

¥4000

Scope of Operation Change

¥4000

Business Address Change

Changing the business address within the same district.

¥4000

Investor's Legal Representative Change

¥3000

Director/Supervisor Change

¥3000

Representative Office Registration

¥8000

Representative Office Changes

¥6000

Corporate Organization Changes

Transform from foreign-funded enterprise into domestic enterprise.

¥8000

Subsidiary Registration & Change

Documents from Municipal Commission of Commerce included.

¥3998

Subsidiary Registration & Change

Documents from Municipal Commission of Commerce excluded.

¥998

Mergers & Acquisitions

Transform from domestic enterprise into foreign-funded enterprise.

From ¥11000
Accounting and Payroll

Small taxpayer.

¥4000

Accounting and Payroll

Normal taxpayer.

¥8000

Accounting Data Recovery

Recovery your critical accounting files and databases.

¥1500

Normal Taxpayer Qualification

Apply for normal taxpayer.

¥2000

Invoice Printer Approval

¥600

Unlock Taxation

Taxation locked less than 3 month.

¥300

Unlock Taxation

Taxation locked less than 1 year.

¥800

Unlock Taxation

Taxation locked more than 1 year.

¥1500

Credit Information of Enterprise

Government filling for Credit Information of Enterprise.

¥90

Invoicing

Printing invoive as agent.

¥300

Invoice Withdraw

Withdraw invoive as agent.

¥200

Increment/Revision

Invoice Increment/Revision.

¥400

Invoice Qualification

Qualification of invoice for normal taxpayer.

¥300

Form Filling

Online form filling for printing invoive as agent.

¥50

Bank Account

Open business acount at China Merchants Bank.

¥500
Trademark Registration

¥800

Trademark Registration

guaranteed.

¥1000

Trademark Registration

100% guaranteed with premium processing.

¥1480

Reexamination

A trademark reexamined by a trademark examiner to verify that the subject matter it claims is legitimate.

¥5000

Trademark Renewal

Trademarks must be renewed every 10 years. Renew a trademark after it expires and up to 6 months afterwards.

¥3000

Trademark Renewal

Renew a trademark in the 6 months before it expires and up to 6 months afterwards.

¥2500

Trademark Filing

Filing of the Trademark License Agreement

¥600

Alteration of Trademark

Alteration of registered trademark.

¥1000

Trademark Transfer

Transfer the property of a trademark to a different person or entity.

¥1500

Software Copyright (Licensed in 30 days)

Extension of copyright law to machine-readable software. Licensed in 30 days.

¥900

Software Copyright (Licensed in 15 days)

Extension of copyright law to machine-readable software. Licensed in 15 days.

¥2700

Software Copyright (Licensed in 5 days)

Extension of copyright law to machine-readable software. Licensed in 5 days.

¥5000

Literary Works Copyright (Licensed in 30 days)

Protect authors and publishers' copyright for reproduction in the press and textbooks. Licensed in 30 days.

¥900

Literary Works Copyright (Licensed in 15 days)

Protect copyright for reproduction in the press and textbooks. Licensed in 15 days.

¥2300

Literary Works Copyright (Licensed in 5 days)

Protect copyright for reproduction in the press and textbooks. Licensed in 5 days.

¥3500

Literary Works Copyright Registration

¥700

Artistic Works Copyright Registration

¥700
Ask a Lawyer

Get legal advice from an experienced lawyer.

¥1

Legal Document Review

Having your legal documents or contract reviewed by a lawyer before you sign ensures your interests are protected.

¥1000

Legal Consultant

Good legal advisor helps you make informed decisions about a variety of business matters.

¥20000

Cancellation of Company

Cancel the Application for Registration of a registered Company.

From ¥10000

Cancellation of Subsidiary

Cancel the Application for Registration of a registered subsidiary.

From ¥4000
Dec, 2014
Lvzheng.com was founded in 2014 with the investment around 10 million received from angel investor Chen Xiaohua and BlueRun Ventures.
Jan, 2015
Lvzheng.com partnered with WeChat for online service. Meanwhile, introduced one-stop company registration service.
Mar, 2015
Launched new services such as bookkeeping, trademark registration, and open the accounts of social security and housing accumulation fund, etc.
Apr, 2015
Monthly sales passed 1 million, ranked first in Beijing's business registration agencies.
May, 2015
Established branch office in Shenzhen, standardized the Business Process of pre-sale consultation, in sale service, and after-sale feedback.
Jun, 2015
Launched the Entrepreneurship Season activity. At the same time, products updated to version 2.0.
Sept, 2015
Customer resources management service system updated to version 3.0.
Dec, 2015
First anniversary of Lvzheng.com
Apr, 2016
Received $5 million series A funding from Fosun International, BlueRun Ventures, and 58.com executives.

As an emerging internet legal service provider for enterprises, Lvzheng.com dare to break the old service mood which confined market for a long time. In doing so they need great courage and excellent business vision. I could focus more on the company's management and market because of t heir efficient services solved a significant portion of legal risks and related troubles.
Chen Xiaohua - CEO, Daojia.com

I chose Lvzheng.com for our trademark registration cause they are faster, simpler, and more professional than other agencies. They aim at internet service, would be the correct choice for doing business!
Cong Lin - CEO, Youche.com

Lvzheng.com was very professional with the construction of Variable Interest Entity (VIE), they have the service ability which traditional agencies do not have. I think Lvzheng.com has promising future cause their competitive service standard and pricing!
Zhang Xiaolei - CEO, Peilian.58.com

With Lvzheng.com's corporate change services, we've been able to avoid a lot of unnecessary troubles. I was surprised by their professional abilities and efficient services. I believe that they would provide the top service in the future!
He Liu - CEO, Diandao.org
WE ARE ALWAYS HERE TO HELP
1
Reliable services without third party involved.
Lvzheng.com guarantees your satisfaction with our services and support. If you are not satisfied with our services, please contact us immediately and we will correct the situation.
Our company was created by experienced attorneys
There would be agreements signed between two parties
If you're not satisfied, feel free to make a complaint
2
SAIC authenticated agency.
We are one of the agencies in our country who has the Special Trade License qualified by State Administration for Industry & Commerce of the People's Republic of China(SAIC), certified attorneys and bookkeepers.
3
Our strength is our people.
Our attorneys is experienced in a wide range of legal issues.
We're here to help you understand what's best for you.
We strive to be the best legal service provider on the web.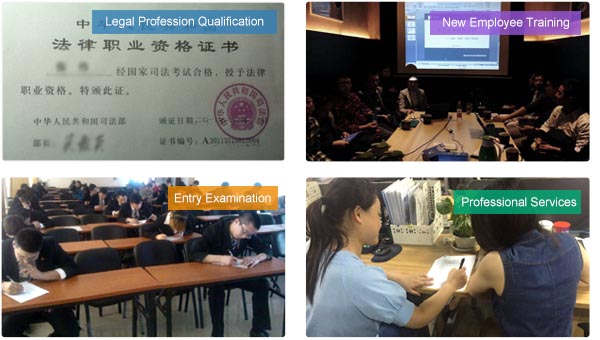 4
We are reputable.
Customers have relied on us to help with their legal needs, and trusted us for great quality at a reasonable price.
Building A 108, Xiaoyun Center, No.15 Xiaguangli, Chaoyang, Beijing
Sangpu Tower 5F, No.10 Dayangfang, Beiyuan Road, Chaoyang, Beijing
16i Nanjingyuan Tower,Taoyuan Road No.147, Nanshan, Shenzhen

Tel:18511898122

E-mail:xuweiran@lvzheng.com